When it comes to content creation, a powerful GPU is essential. ASUS introduces its latest range of ProArt RTX 40 Graphics Cards, specially designed to meet the demands of creatives in various sectors. These devices provide exceptional performance thanks to their optimized drivers and extensive certifications. Expand your knowledge of these amazing cards and how they can boost your creative ability.
ProArt RTX 40 Graphics Boards – Powerful tools for creators
The ProArt range provides the opportunity to take advantage of the latest features that NVIDIA offers, including the innovative NVIDIA Video Encoder (NVENC). This feature allows you to transfer the load of encoding videos from the CPU to the GPU, thus considerably reducing video export times. This is beneficial for both video producers and live streamers, allowing them to provide a smoother, higher-quality experience.
Featured Performance: ASUS NVIDIA ProArt GeForce RTX 4080
The ProArt GeForce RTX 4080 stands out as the best performing alternative in the line. Thanks to its brand new Ada Lovelace architecture, it provides outstanding performance through its new next-generation streaming multiprocessors and Tensor Cores. In addition, its compact design makes it one of the smallest versions of the RTX 4080 cards on the market, ideal for workplaces with limited space.
The mainstream alternative: ProArt GeForce RTX 4070 Ti
For those who want to get a higher level of performance at a more reasonable cost, the ProArt GeForce RTX 4070 Ti features similar features to its higher-performance counterpart. Thanks to its compact design and exceptional processing power, it becomes the ideal choice for a wide range of creators.
More VRAM for greater productivity: ProArt GeForce RTX 4060 Ti 16GB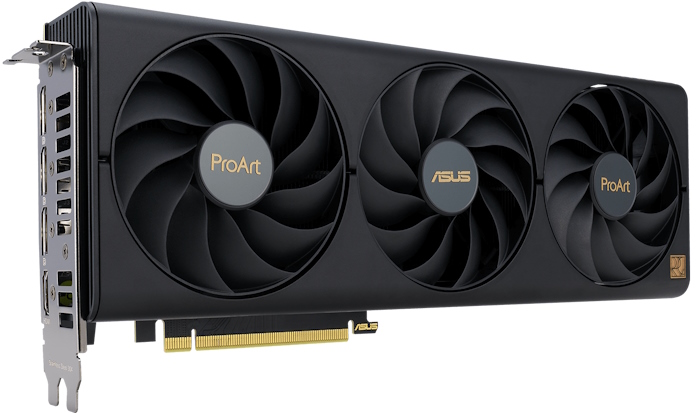 VRAM video memory capacity is crucial for many artists and designers, and the ProArt GeForce RTX 4060 Ti graphics card with 16GB offers a compelling option. With 16GB GDDR6 memory and a quiet cooling design, it's a valuable upgrade for those with highly complex projects. Explore more about ASUS' new ProArt RTX 40 graphics cards and how they can boost your creativity. Saiba more.