Best Notebooks of 2023 buying guide.
The best notebooks of 2023: Premium Laptops, Budget Laptops, 2-in-1s and more.
Our top picks include the best technological advancements in laptops, from new CPUs and GPUs to the latest displays, keyboards, webcams, I/O ports, and more.
We've scoured the market for the best options across categories, from premium laptops to budget laptops, gaming laptops, and everything in between.
In the list below, you will find our top picks for October 2023.
Acer Aspire 3 –
The best economical laptop
pros
Spacious keyboard with numeric keypad
HD webcam
Solid video playback performance
Decent business app performance
Battery for an entire working day
cons
Poor gaming graphical performance
Basic 1080p screen
128GB small storage drive
With its affordable price, satisfying performance, and sturdy build, the Acer Aspire 3 becomes a budget-friendly choice for most people.
It may not be the most aesthetically pleasing laptop, but the build is surprisingly sturdy.
It has a solid, durable feel reminiscent of much higher priced laptops.
Also nice is the full-size keyboard.
It has a spacious design, which is ideal for carrying out extensive writing sessions.
With a budget laptop you'll have to accept sacrifices in terms of performance, but the Aspire 3 is fast enough for general-purpose tasks like writing emails and browsing the web.
If you're looking for a solid laptop for everyday use that won't break the bank, the Aspire 3 offers a lot for relatively little money.
Dell XPS 13 Plus –
Best Ultra Portable
Advantages
fast CPU
Beautiful 3.5K OLED display
Excellent audio
Disadvantages
Only two USB-C ports
Average battery performance
It does not have an audio input for headphones
The Dell XPS is an excellent ultra-thin laptop that features advanced performance and an incredible OLED display. The 14-core Intel Core i7-1280P CPU ensures high-performance processing.
Not only is it ideal for general use, but it is also capable of easily handling photo editing tasks.
This device comes with Intel Xe graphics, 16GB of RAM, and 512GB of SSD storage.
Although its size is only 13.4 inches, the OLED touchscreen is absolutely stunning, with a resolution of 3456x2160 offering sharp and vibrant images.
Unfortunately, due to its compact design, it lacks some connectivity options and its battery life is simply average.
If you can overlook these limitations, then the Dell XPS 13 Plus is a great option for those who need a laptop for traveling.
HP Dragonfly Pro – 
The best option instead of Apple MacBook. 
pros
Premium materials
Powerful AMD Ryzen chip
Amazing four-speaker setup
Good battery life
High degree of value for the dollar
cons
All keys on my HP keyboard should be remappable
There are no user-updatable components
Does not have a headphone jack
Only 2 high-speed USB-C ports
If you're looking for an eye-catching design, outstanding efficiency, and rugged performance similar to the MacBook Pro, but on a Windows device, you should definitely consider the HP Dragonfly Pro.
This laptop, which is about as similar as it gets to Apple's line of premium laptops, is the result of a collaboration between HP and AMD, and comes equipped with a next-generation Ryzen 7 processor with eight high-performance cores and a card Radeon 680M graphics card, making it much more powerful than its slim 0.7-inch figure would make you think.
This laptop surprises with its attractive design and high-quality feel, thanks to its aluminum and polycarbonate construction.
You'll even notice that HP has adopted MacBook's minimalist port strategy, as it only features two USB 4 Type-C ports and one USB-C 3.2 port.
This provides a clean look, but some users may not like it as it makes it difficult to connect many accessories.
Although the screen is good, it unfortunately can't compare to the best from Apple.
Despite this, and being much cheaper than the current MacBook Pro models, this HP Dragonfly Pro is a more than worthy competitor, in addition, you will have the flexibility of Windows and
the possibility of playing in your free time.
Lenovo Yoga 9i Gen 8 –
The best 2 in 1 laptop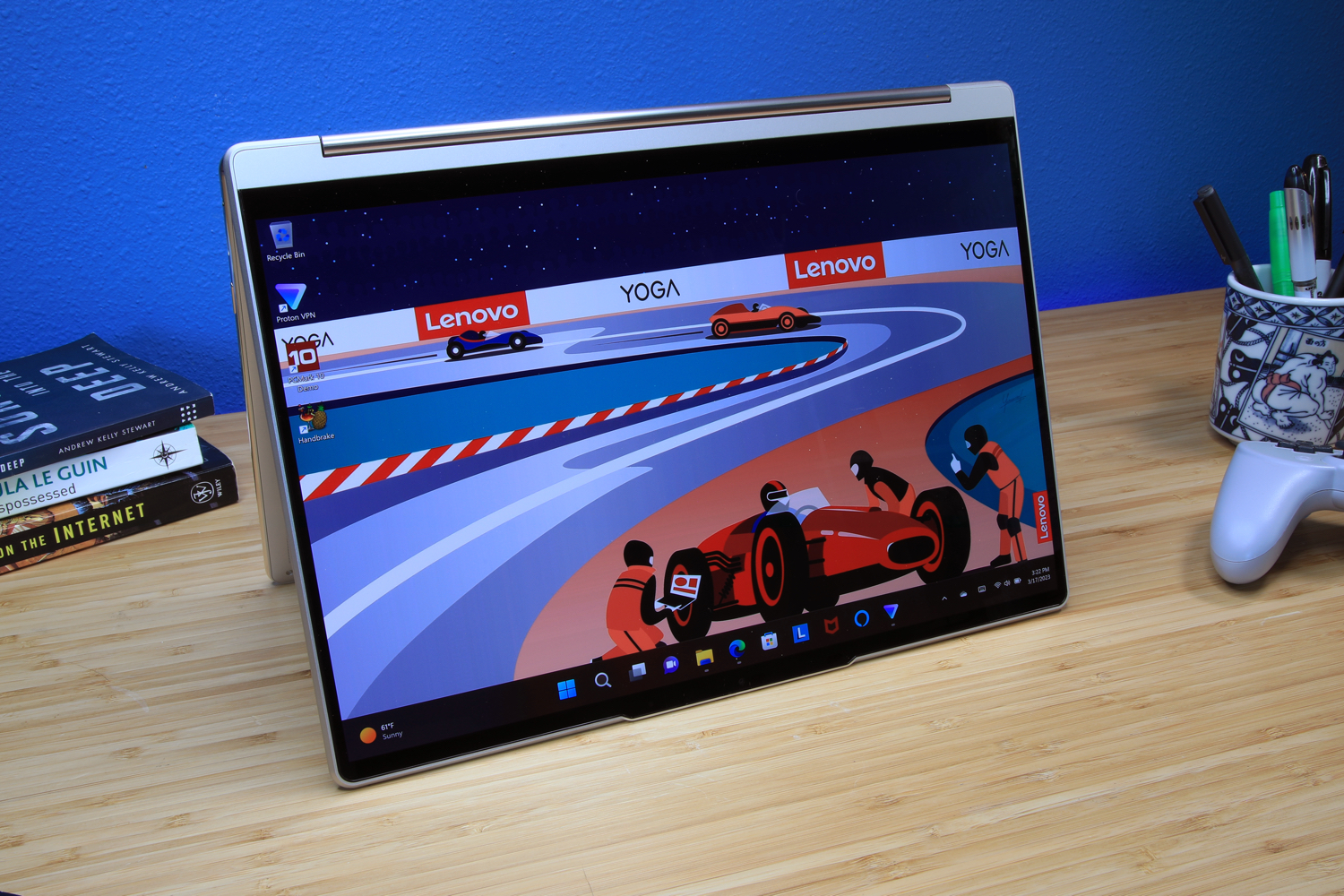 Advantages
Attractive and slim design
Excellent OLED screen
All USB-C ports support display, power
Touch screen with active pen included
Disadvantages
Unimpressive graphical performance
Only one USB-A port
More expensive than the 2022 model
Lenovo Yoga laptops have always proven to be excellent 2-in-1 convertibles, but the latest Gen 8 version has managed to surpass them.
Lenovo's new Yoga 9i not only remains one of our favorites when it comes to convertibles, but it also manages to raise the bar set by previous versions.
Inside, it features solid performance features like a 13th Gen Intel Core i7 processor, Intel Iris Xe integrated graphics, 16GB of DDR5 RAM, and a 512GB SSD.
Additionally, the Yoga 9i features a slim design that is just over half an inch thick and weighs around 3 pounds.
And if that wasn't enough, it also comes with some cool add-ons, like a 1080p webcam and a stunning 2880x1880p OLED touchscreen.
It is true that it is a little more expensive than previous versions of Yoga, but its performance and features make it an excellent investment in terms of quality-price.
If you're looking to get a 2-in-1, the Yoga 9i should be at the top of your list.
Acer Chromebook Spin 514 – Best Chromebook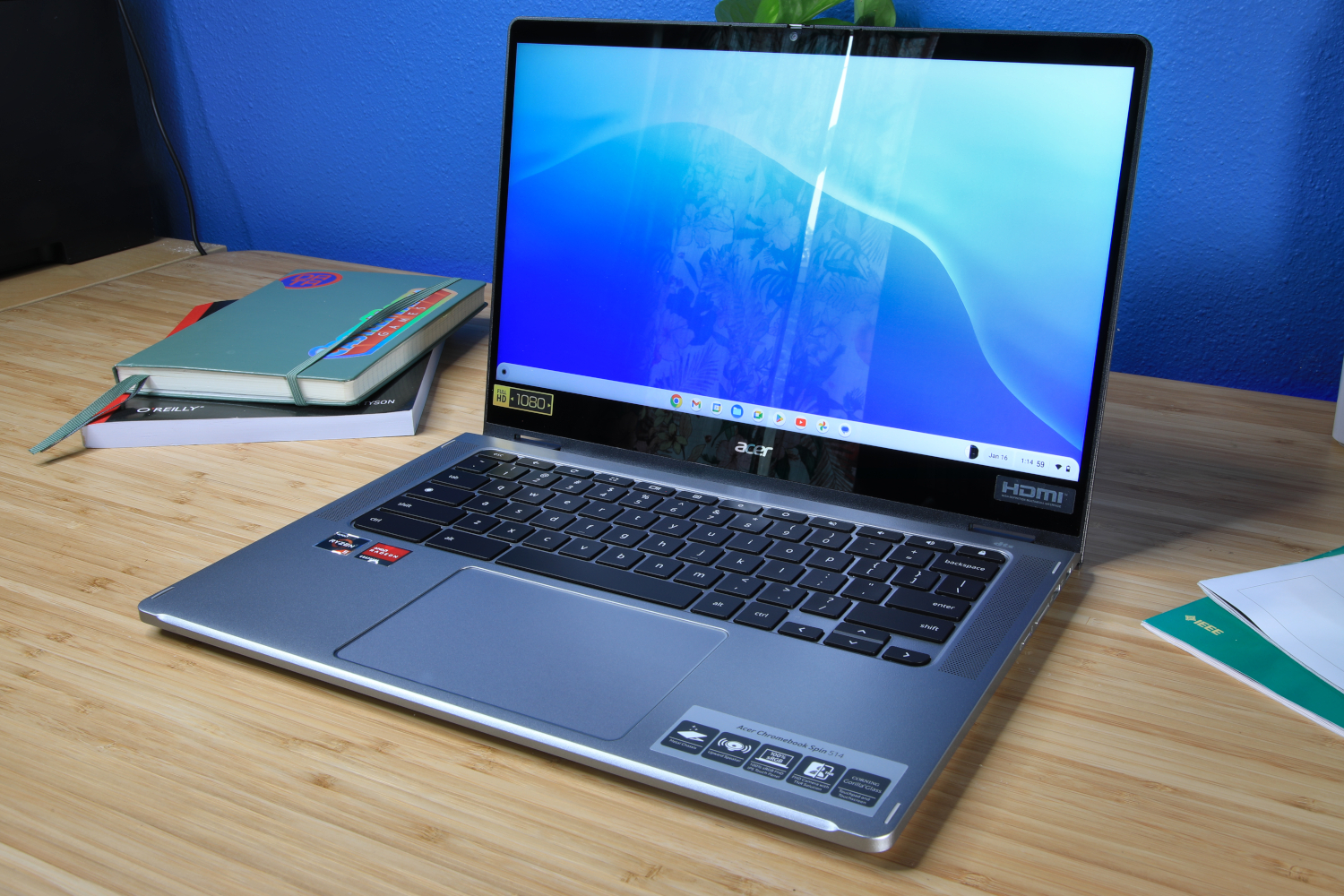 pros
Great processor performance
Durable and premium design
High quality keyboard and touchpad
Two USB-C ports with Power Delivery
Long battery life
cons
A little heavy for a 2-in-1 device
The screen could be brighter
Game performance on Android is unreliable
Expensive compared to Windows alternatives
For people who enjoy the simplicity and convenience of cloud-based ChromeOS on top of Windows, the Acer Chromebook Spin 514 is a worthy option.
It certainly breaks the stereotype that Chromebooks are inferior laptops, with a sophisticated and rugged design, spirited CPU performance, and a spectacular keyboard and touchpad.
On top of that, it features two USB-C ports with Power Delivery and DisplayPort Alternate Mode, meaning you can use either port to power and charge the device, or to stream video to a secondary USB-C monitor.
The Spin 514 comes equipped with an AMD Ryzen 5 5625C CPU, AMD Radeon graphics, 8GB of RAM, and 128GB of SSD storage.
The screen, which folds 360 degrees thanks to the 2-in-1 form factor, has a resolution of 1920x1080 and is touch-sensitive.
Of course, this degree of capability and versatility comes at a higher price than other, more basic Chromebook versions.
But if you can face the price of $699.99, this machine will not disappoint you.
Asus ROG Zephyrus G14 (2022) – The best gaming notebook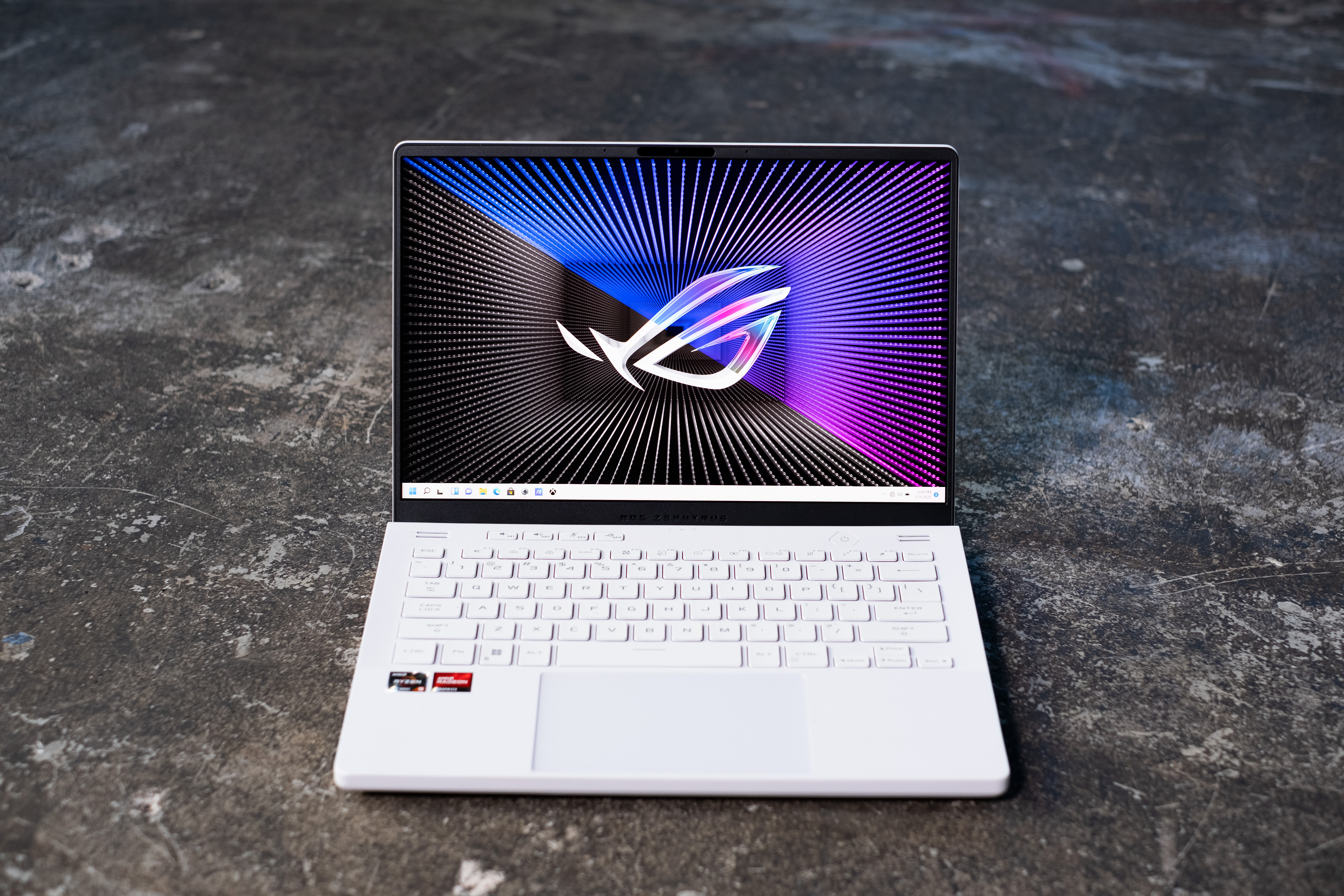 pros
Powerful CPU and GPU performance in a very compact design
AniMe Matrix screams unique
It has a webcam
cons
half-permanent RAM
Keyboard backlight is mediocre
The ROG Zephyrus G14 is light and powerful, a very rare combination.
It weighs just over three pounds, making it a travel-friendly laptop.
Between the AMD Ryzen 9 6900HS processor and the AMD Radeon RX6800S GPU, you can also expect strong performance.
The only weakness is the keyboard.
It feels a little soft and the backlighting is pretty unimpressive.
That said, if you're in the market for a laptop that offers fast performance, the Zephyrus G14 is an excellent choice.
ASUS VivoBook Pro 15 OLED Ultra Slim Laptop – Best Budget Gaming Notebook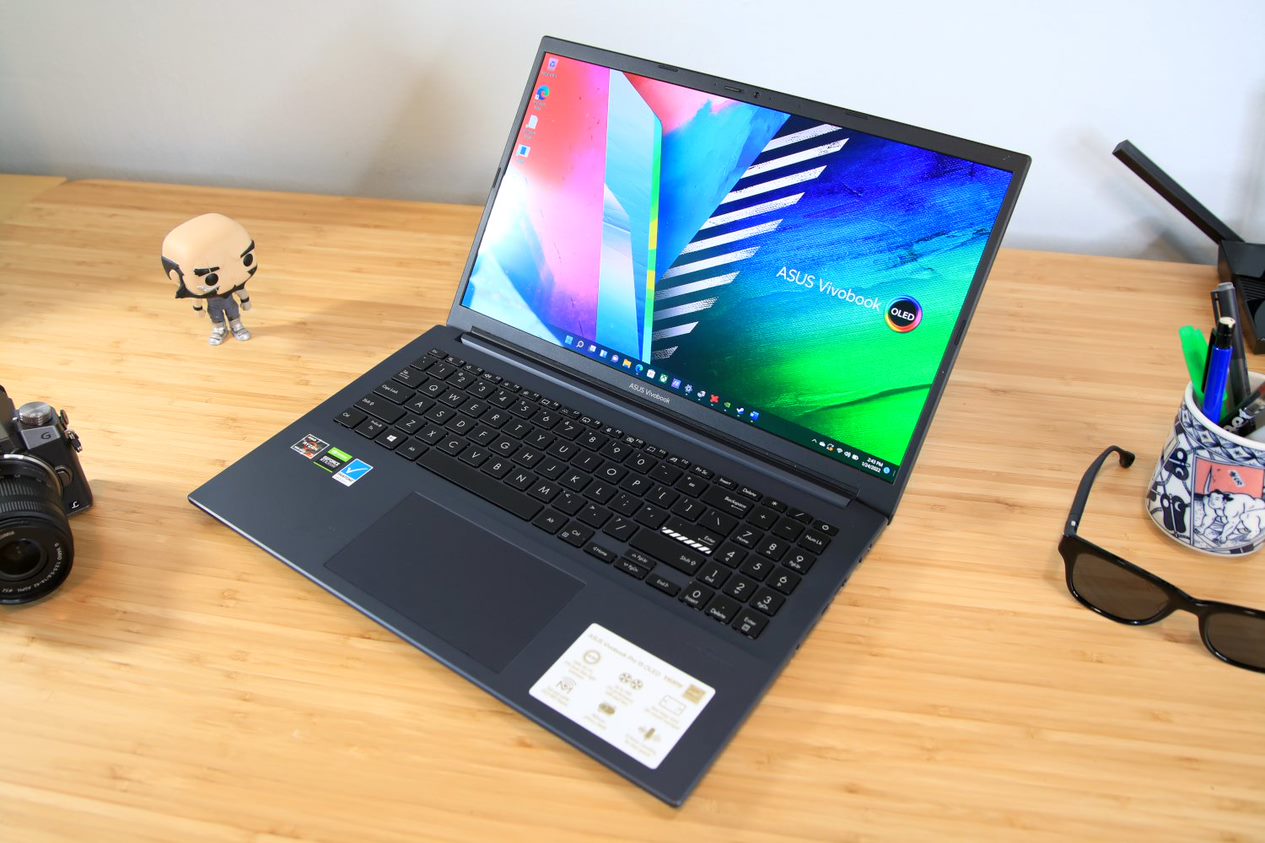 pros
Good productivity performance
Excellent screen
Robust design
Great battery life
cons
boring aesthetic
720p webcam not impressive
Unreliable fingerprint reader
Poor port selection
Are you looking for an affordable and reliable gaming laptop?
The ASUS VivoBook Pro 15 OLED is a fantastic option.
According to our tester, this laptop is ideal for "gaming, streaming, and everyday productivity."
Thanks to the AMD Ryzen 7 5800H processor and the Nvidia GeForce RTX 3050 (4GB GDDR6) graphics card, we were able to reach 60 frames per second at 1080p on high graphics during the Shadow of the Tomb Raider benchmark.
Plus, the OLED display is absolutely gorgeous and the battery life is surprisingly good.
However, there are some small drawbacks.
The overall design is a bit plain and the port selection is limited, plus you'll have to go down to medium or high graphics in demanding modern AAA games on the RTX 3050.
Those minor details aside, if you're looking for reliable performance on a beautiful OLED display, the VivoBook Pro 15 is where the fun is.
If you don't mind giving up those stunning OLED visuals for a little more graphical power, you should take a look at the Acer Swift X.
MSI Titan GT77 HX 13V – The best premium gaming notebook
pros
Excellent mechanical keyboard
Class-leading Mini-LED display
Incredible CPU and GPU performance
2TB of solid-state storage with PCIe Gen5 support
cons
Uninspired design
Short battery life
The MSI Titan GT77 HX 13V is the ultimate gaming laptop in terms of pure performance.
It has pretty much everything you could dream of in a gaming machine, including the latest Core i9 processor, a monster RTX 4090 graphics card, 64GB of DDR5 RAM, and a 2TB M.2 PCIe Gen5 SSD.
If that wasn't enough, it also features a beautiful, industry-leading 4K Mini-LED IPS display capable of a 144Hz refresh rate.
It also has plenty of connectivity options and a fantastic Steel series mechanical keyboard with built-in Cherry MX switches.
If we were being picky, we'd say the only drawbacks are a mediocre 720p webcam and short battery life (if used during power-hungry 3D games or intense workloads).
All that high-end hardware comes at a price, and you'll have to pay a premium for MSI's best.
With such a high price tag, this laptop is not a practical option for most people.
But if you want the best in performance and have a lot of money to spend, there's currently nothing that can rival the MSI Titan.
Asus ROG Strix G16 – The best keyboard for gaming on Laptops
pros
The cyberpunk style seems very attractive
The laptop makes excellent use of its high-performance hardware
The screen is bright and handles movement well
cons
A cluster of ports on the left side may not be suitable for left-handed people
Battery life is mediocre
There is more plastic in the chassis than in some competitors
It might seem like something out of a cyberpunk dream, but the Asus ROG Strix G16 features our favorite gaming keyboard on any laptop so far.
A cluster of programmable hotkeys, a numeric keypad cleverly hidden in the trackpad, and keys with a generous 2mm offset, make this all-round keyboard and trackpad ideal for competitive gaming.
The Asus ROG Strix G16 backs up its style with substance.
Combining the latest Core i7-13650HX processor with an Nvidia RTX 4060 GPU means you'll have power to spare.
We were also impressed by the vivid 16-inch display with 2560x1600p resolution and a 240Hz refresh rate.
Sure, the chassis has a little more plastic than we'd like and the battery life sits firmly in the average category, but those details are forgotten as soon as you turn on this neon-lit beauty.
Asus ROG Strix 18 – The best 18-inch gaming notebook
pros
CPU and GPU produce impressive power
The 18-inch QHD+ screen is large and brightly colorful
Aura Sync RGB Light Bars Make Things Clearer
cons
Battery life is only average
The trackpad is too firm to use all day
A 1080p webcam would have made it more suitable for creators
Do you want a huge 18-inch screen on your laptop?
What if that giant screen is a QHD+ with a 240Hz refresh rate?
Well, you already had us with the 18-inch screen. The Asus ROG Strix 18 comes very close to being the ideal desktop replacement.
This laptop comes loaded with excellent performance features including a Core i9-13980HX processor, an RTX 4090 GPU, 32GB of RAM, and a 1TB SSD.
But that's not the best, the ROG Strix 18 comes with an impressive 18-inch QHD+ display (2560x1600) with ROG Nebula panel with 100% DCI-P3 and sRGB coverage and a 240Hz refresh rate.
At first glance, the price of the Asus ROG Strix 18 may put some off, but it can be found much cheaper than some models from competitors such as Razer and MSI with the same configuration.
Size can be an advantage or a disadvantage depending on what you're looking for in a laptop, but if you want a desktop replacement with an exceptional display then there's currently nothing better than the Asus ROG Strix 18.
Dell XPS 17 (2022) – The best notebook for content creation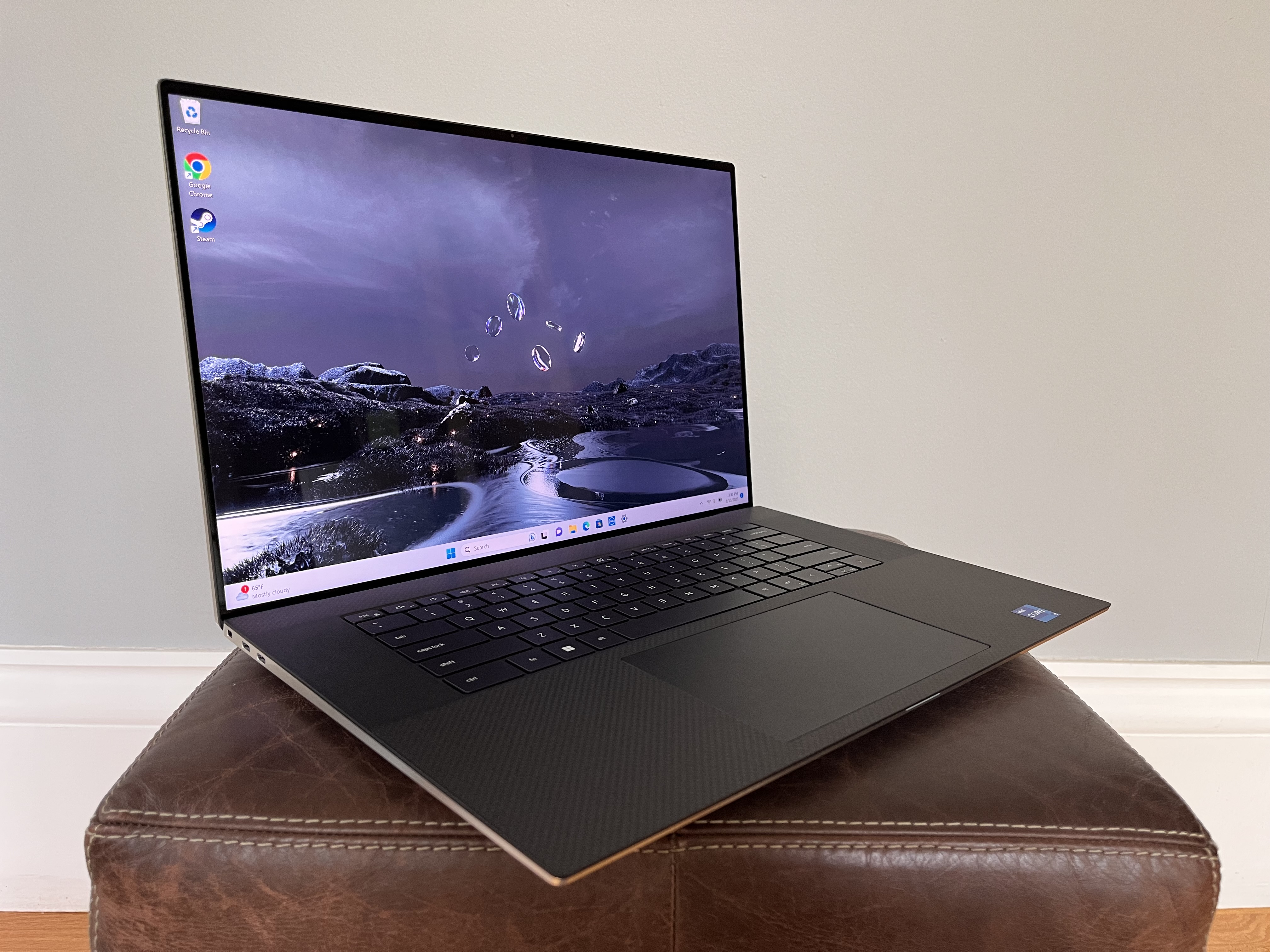 Advantages
Large 17-inch 16:10 screen
Slim chassis
Incredible battery life
Disadvantages
High price without OLED screen
Low-power GPU limits 3D performance
Low resolution 720p webcam
Dell's updated XPS 17 features a massive 17-inch display, a 13th Gen Intel Core i7-13700H CPU, and a GeForce RTX 4070 GPU.
Not only is there enough performance to power through all your content projects, but it also includes a 1TB SSD giving you plenty of storage for all of them.
By packing its 4K touchscreen into such a compact laptop and filling the notebook itself with all the features pros ask for (hello, SD card reader and plentiful Thunderbolt 4 ports), the XPS 17 is the poster child for what you should be a robust laptop for content creation.
The only real downside is that the XPS 17 weighs just under five and a half pounds, making it a real beast.
The webcam is only 720p, which can be a disadvantage if you have to do online classes or video conferences.
Buy if you can live with those small disadvantages, the latest XPS 17 is a phenomenal choice for all content creators.
Acer Swift 3 – The best Laptop for students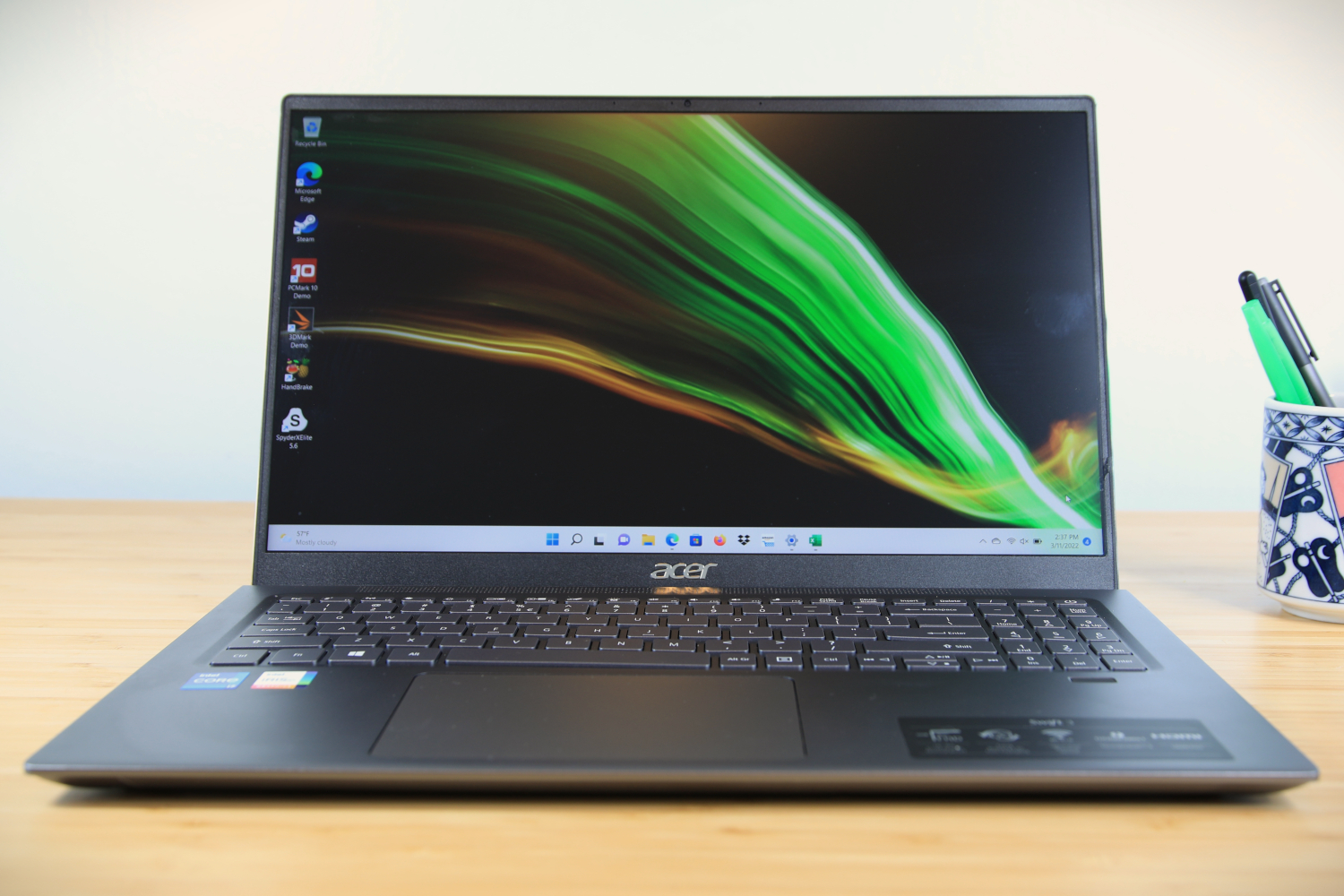 Advantages
Solid chassis and build quality
Large, attractive 16-inch 1080p display
Nice keyboard and touchpad
USB-C with charging and DisplayPort
Disadvantages
Webcam, microphone and speakers do not impress
Intel processor falls behind AMD alternatives
Disappointing battery life
Lots of unnecessary software
If you're looking for a big screen on a moderate budget, the Acer Swift 3 is a fantastic option.
It has an attractive 16-inch screen with 1080p resolution, a solid chassis, and a nice keyboard and touchpad.
Battery life is below average, however, so you'll want to keep the charger on hand.
This is unfortunate, as the Swift 3's slim profile makes it a good laptop for travel.
If you don't care about battery life, this is a great laptop for watching movies and streaming shows.
Asus Chromebook CM34 Flip – Best battery life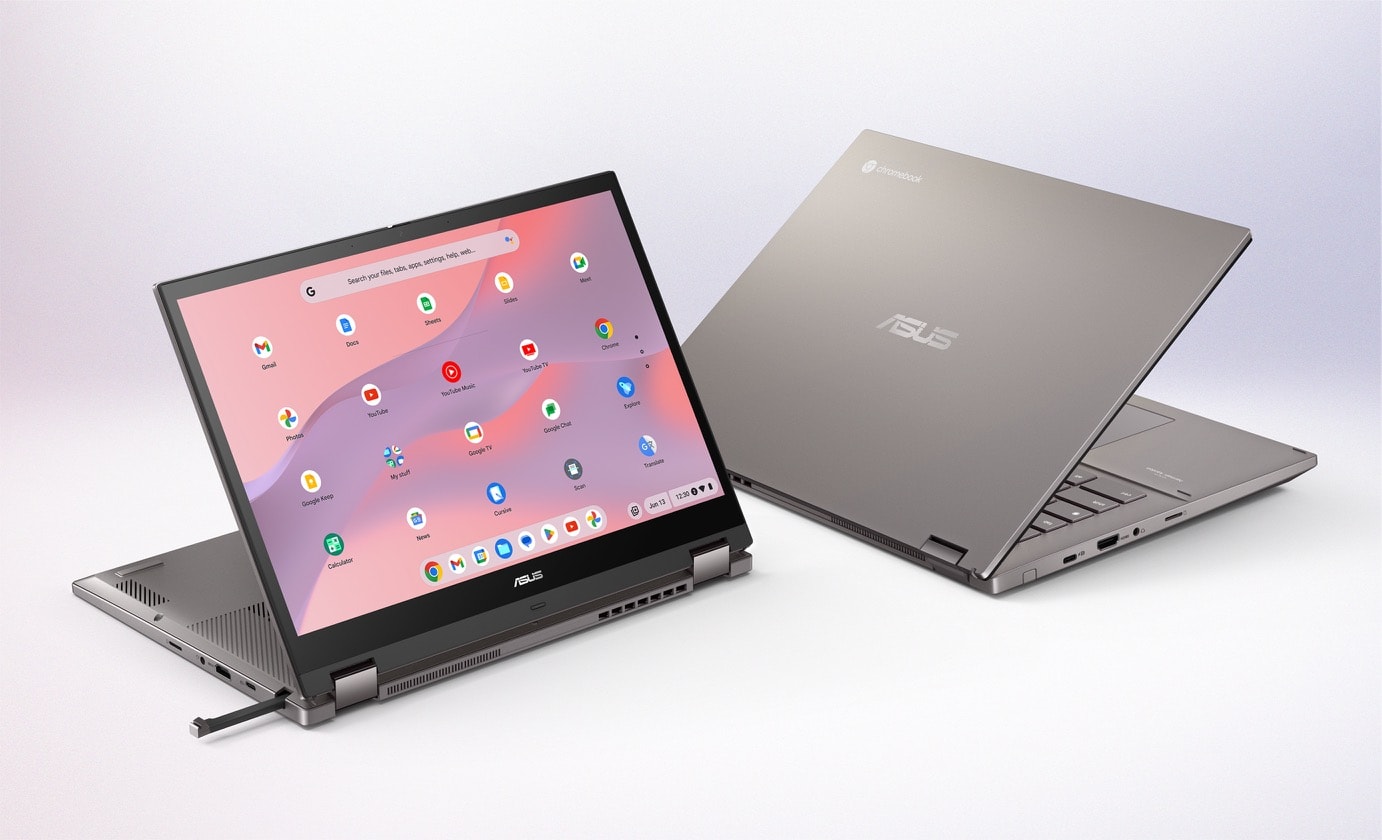 pros
Incredible battery life
Large touchpad
1080p webcam
Lovely screen
cons
Heavier than expected
Screen is too bright in outdoor environments
Average performance
If you're looking for incredible battery life, then your best option is the Asus Chromebook CM34 Flip.
The fantastic battery life of this Chromebook seems to have no end.
In fact, it lasted an incredible 19 hours on a single charge in our tests; Even to make sure, we run the benchmark twice.
On most laptops, it's impressive if you can get 10 hours out of a single charge, the CM34 Flip almost doubles that number.
Despite its affordable price, in terms of performance it is not far behind.
It comes with an AMD Ryzen 3 7320C processor and 16GB of RAM.
This 2-in-1 also comes with a colorful touch screen, a comfortable touchpad and a high-quality 1080p webcam.
Weighing just over 4 pounds, it's not the most portable.
But if you're looking for a rugged machine for everyday use that won't empty your pockets, you won't find anything better than the CM34 Flip.
Framework Laptop 13 – Best for nomads
pros
Excellent matte screen
Solid design
Easy repair and upgrade
Powerful Intel chips across the range
Nice keyboard
Electrical disconnections for microphones and camera
Cons
Low battery life
Expansion modules increase price for some ports
Noisy fan activates under moderate load
If you are one of those who like to tinker with their computers to continually improve them, repair broken parts or add the latest high-performance components, then the Framework Laptop 13 is like a dream come true.
Framework not only makes repairability possible, it makes it a core feature that anyone can do as long as they have a screwdriver, which is included with the laptop.
It even comes with interchangeable modular ports that can be changed as needed.
You can also purchase motherboards with new processors installed, achieving the desired goal of a truly upgradeable laptop.
Plus, beyond its DIY capabilities, the Framework laptop is just an overall great laptop right out of the box.
It comes equipped with the latest 13th generation Core i7-1360P processor, integrated Intel Iris Xe graphics, 16GB of RAM, and a respectable 512GB SSD.
It also features a surprisingly good 3:2 IPS panel with a resolution of 2256 x 1504p that comes with a matte screen that reduces glare.
In short, it's a laptop that not only performs right out of the box, but promotes upgradeability and repairability that should serve you for many years.
Microsoft Surface Pro 8 – The best detachable notebook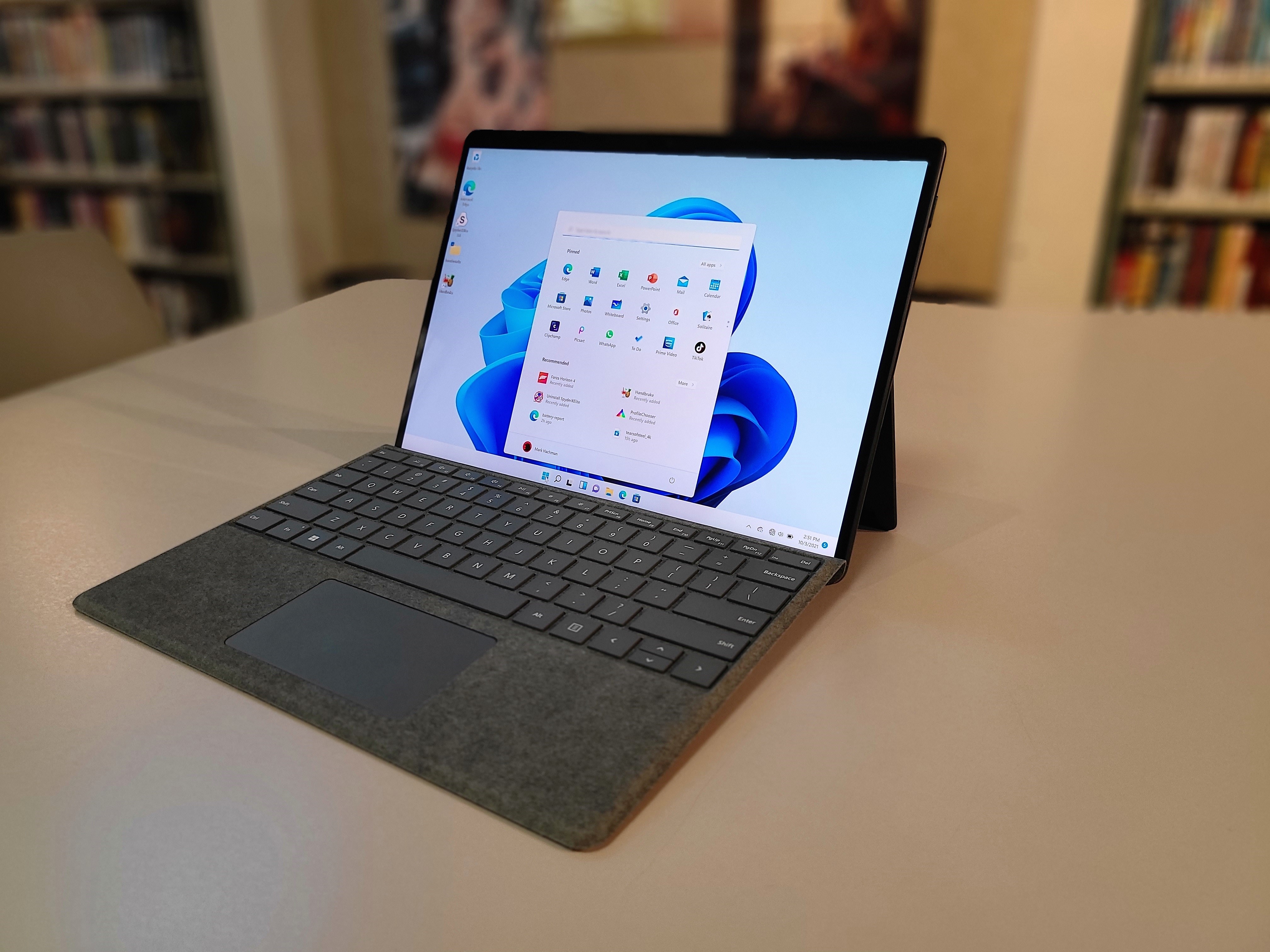 pros
Superior screen: larger, higher resolution, higher refresh rate
Writing is a pleasure
Good audio, with louder speakers
New optional keyboard cover integrates the pen well
cons
Webcam may need some adjustments
Pen and keyboard still cost extra
It's still expensive
Microsoft's Surface tablets were already at the top of our list of the best 2-in-1 laptops, but Microsoft remade the Surface Pro 8 in a number of ways by adding a larger, higher-resolution and faster screen, a pair of Thunderbolt ports that replace the old Surface connector, and a new pen experience, among other features.
Although this generation of the Surface Pro tablet dispenses with an always-connected LTE option, as well as the choice of a cheap Core i3, performance still skyrocketed to the top.
Benefits like how the screen's higher refresh rate improves typing are subtle improvements that matter, too.
It's the most dramatic overhaul of a Surface in years, and it's for the better.
Read our complete Surface Pro 8 Review
Laptop FAQ
Ah, here we are with the million dollar question.
Do you buy a basic Chromebook or do you lean towards a Windows laptop with more features?
Well, it really depends on your personal lifestyle and what you plan to use your laptop for.
For example, Chromebooks are a great low-cost option for those who just want the basics.
If you travel a lot for work, it's probably a good idea to invest in a laptop with good battery life.
If you're still not sure, don't worry.
I've put together a list of quick tips below.
What type of laptop should you buy?
The first question you should ask yourself is what type of laptop you are looking for.
There are traditional laptops, 2-in-1s, Chromebooks, and much more.
Convertible laptops (also known as 2-in-1s), for example, can rotate 360 degrees.
This allows you to use the laptop as a tablet.
They can also be placed as a tent to watch movies or participate in video calls.
Chromebooks, on the other hand, only run Google's web-focused Chrome OS and are generally used for everyday tasks.
All you need is a Gmail account and voila, you're in.
There are advantages and disadvantages to each of them.
Chromebooks are affordable and generally have good battery life, while convertibles are typically lightweight and portable.
How much processing power will I need?
If you are looking for processor power, choose those with higher numerical names.
A Core i7 is better suited for gaming and more intense work than everyday tasks.
Intel processors are available in Core i3, Core i5, Core i7 and Core i9.
The higher the number, the more powerful the processor.
If you don't need a lot of power, Intel Core i5 processors are your best option, as they offer good performance at a decent price.
A Core i3 works perfectly for basic office work and web browsing.
As for AMD options, the Ryzen 3 is good for basic productivity and web browsing, while the Ryzen 5 chips are a solid rival to Intel's Core i5.
If you need more power, the Ryzen 7 chip is suitable for content creation such as video editing.
What is the difference between discrete and integrated graphics?
You'll need a discrete graphics card for hardcore gaming or video editing.
It is separate from the processor, so you can expect superior performance.
On the other hand, integrated graphics are attached to the processor and as a result consume less power, which is perfectly adequate for everyday tasks.
What about memory?
8GB of RAM is enough for general use.
If you have a gaming laptop, 16GB of RAM is ideal.
How big should my screen be?
If you are a video editor or someone who does a lot of multimedia work, you should opt for a screen that is between 15 and 17 inches.
However, the sweet spot is really between 13 and 14 inches.
The larger the screen, the heavier your laptop will be.
How long should my laptop last on a single charge?
If you plan to take your laptop with you anywhere, look for something that can last 10 to 12 hours on a single charge.
That's more than a full work day, so theoretically it should help you survive long flights or a day of school.
Obviously, more battery time is always better. Just keep in mind that the larger the battery, the heavier the laptop will be.
How much should I spend?
The price really depends on your budget.
If you're short on cash, opt for a Chromebook or entry-level business laptop.
These laptops are good options for students or young professionals.
If you can afford to spend more, the versatility of a 2-in-1 laptop is really worth it.
What about connectivity?
A wide variety of ports is always a plus in my opinion as it eliminates the need for an adapter.
I would recommend a laptop that has both USB-C and USB-A.
An HDMI port is good too.
This is especially useful when you want to connect to an external monitor.